Services
---
Invitations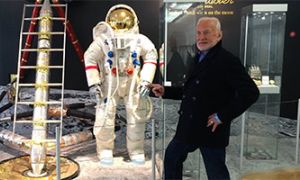 We organize appearances and take care of the astronauts, scientists and other key people involved in the exploration of space for your specific event, placing a special emphasis on the Apollo missions and the moonwalkers.
---
Examples
2015 – Television commercial starring astronaut Buzz Aldrin for Swiss Tourism.
2014 – Official visit of astronaut Edgar Mitchell to the Space Expo. Nordwijk, Netherlands.
Competence Center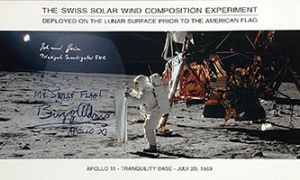 Our archives are continuously enriched with new documents that we obtain thanks to our work in the field of preserving the history of Switzerland's involvement in the Apollo program.
We also offer our services as reference for different publications in the context of space exploration.
---
Examples
2015 – Expertise for the Space week of the Swiss National Television, SF1 and TSR1
2014 – Recommendation for the lecture on the book «Innovation, the NASA way», Rod Pyle, USA
2009 – Proofreading of the publication «Science & Fiction», Berner Universitätsschriften
Conferences & Discussions
We organize and chair conferences and panel discussions attended by astronauts. We propose witty concepts containing scenarios tailored to the needs of our guests.
The participation rate averages 450 people with a record of 1100 persons attending one single conference.
---
Examples
2014 – Panel Discussion «Apollo 14», starring astronauts Edgar Mitchell, Claude Nicollier. Salle de la Marelle, Tramelan, Switzerland.
2015 – Panel Discussion «THE MOON RACE» starring Buzz Aldrin, Alexei Leonov, Claude Nicollier. SwissTech Convention Center, Lausanne, Switzerland.
Exhibitions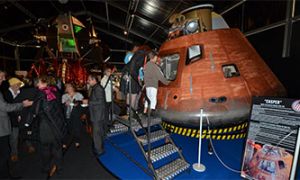 We conceptualize and realize exhibitions about the Apollo program. We hold a collection of worldwide unique space artifacts.
---
Examples
2016 – Collaboration for the new exhibition. Swiss Transport Museum, Lucerne.
2012 – Biggest Apollo exhibition ever held in Europe. Foire du Valais, Martigny, Switzerland
2010 – Opening of the permanent exhibition «First on the moon». Swiss Transport Museum, Lucerne, Switzerland.
Special Projects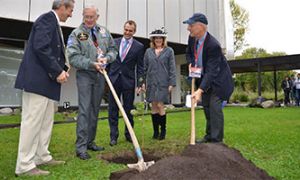 We try to be creative and to find always new and innovative ideas in order to surprise you.
---
Examples
2016 – Limited special edition of a wine case.
2011 – Planting ceremony of a «lunar tree» in Lucerne (tree grown from seeds that travelled to the moon and back during the Apollo 14 mission).
2009 – Official poster containing a summary about «The Swiss Solar Wind Composition Experiment» used during the Apollo program.
motivational seminars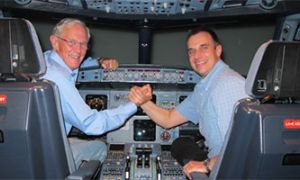 We offer our services to assist you in the organization and hosting of conferences and motivational seminars for enterprises and sportspeople.
The lessons learned during the moon missions are the basis for ongoing innovation to make the best use of human resources. After Apollo, nothing seems to be impossible.
---
Examples

Apollo 11 – Optimizing resources and talent in order to achieve an ambitious aim.

Apollo 13 – Failure is not an option – there is always a solution to a problem.